For the perfect dive site
Before going on a scuba diving holiday, we like to spend extensive amount of time searching for that very precious diving spot, that we will definietly want to visit during our holiday. Endlessly scrolling down on the different Facebook and Instagram diving pages, watching hours of Youtube videos with burning eyes in the middle of the night and asking recommendations on the different forums. At some point in our lives we've all been there.
Exciting, painful and in most cases, a complete waste of time . Will explain this a bit later…
So after all the effort, you finally come accross a magical map, which shows the location not for the lost treasure of the pirates, but the sought after san graal of dive sites in Okinawa. Finally! You've made it! You would think, that all the sleepless nights and complains from your significant other are finaly came to an end. But no, it doesn't. Looking at this dive map will not make things easier either, as the locations for most of these dive sites in Okinawa are only known by local divers, accessible on a dirt road in the middle of a sugar cane field -like Mermaids Grotto- and involve climbing down steep rocks risking some serious injury, like at Zampa Lighthouse if you coming from the shore.
Now you have a map, but you are back on the internet looking for more answers and got stucked in the same circle over and over again.
To make your life a bit easier, I've put some of my favourite dive sites below. They are a good mix for every level of divers and snorkelers, from complete beginners to tech beasts.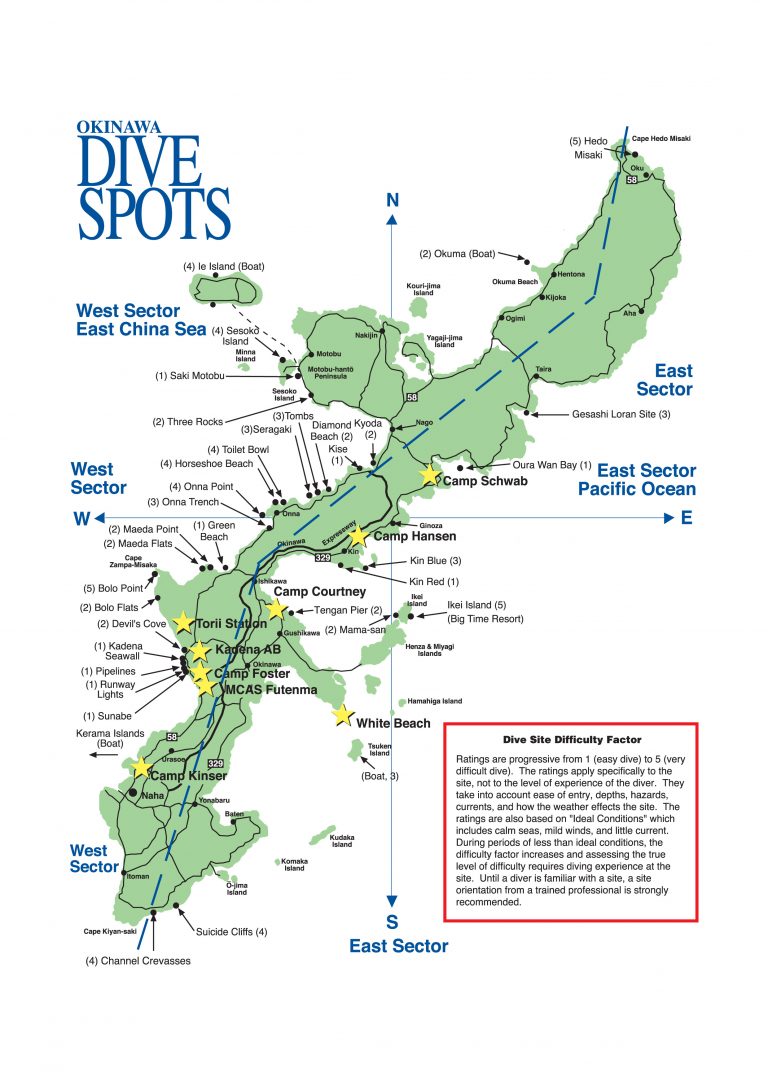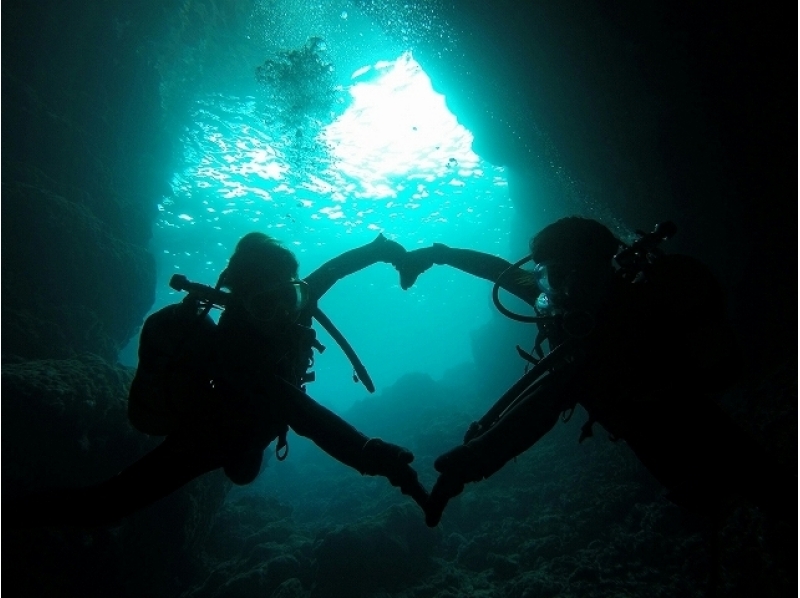 Entry: Boat or Shore
Level: Beginner
Maeda Point in Okinawa, Japan is the first search result, when  looking for diving in Okinawa. And the reason for that is simple: it is a magnificent view, easy access by boat, suitable for beginners, but experienced divers can find their treasures as well.
You can often see school of fish hanging around the coral reef, octopuses hiding in the cracks  and turtles swimming around the deeper parts. 
Of course for many, the Blue Cave is the main attraction with it's mesmerizing colours. The cave itself is open on the top, making it safe even for Padi Discover Scuba diving as you will always have access to the surface.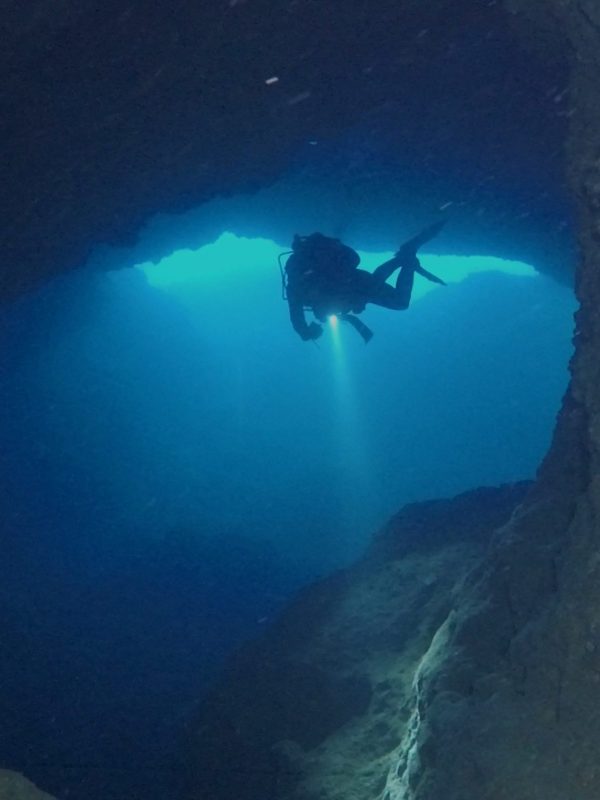 Entry: Boat
Level: Experienced
The underwater geology of Hedo Misaki is simple. Starting from the cliffs, a steep slope is running towards the deep ocean and disappearing into the blue waters. The mixture of the strong currents and deep fresh waters are providing the necessary nutrition for a very diverse sea life. Between 5-15 meter, the constantly moving ocean has created massive crevasses and arches, providing hideaways for many fish species.
Around 20m, human sized corals filtering the water, while at 30m Giant Travelly is hunting in the shadows, looking for its prey.
Cape Hedo Dome is the most well known dive site in this area. It's an ancient limestone cave, which was flooded over the millions of years by the rising ocean level, creating a unique air pocket inside the mountain, where you can come up to the surface. The only access to the dome is from underwater at around 8m deep and you will have to swim up in overhead environment for about 20 meters.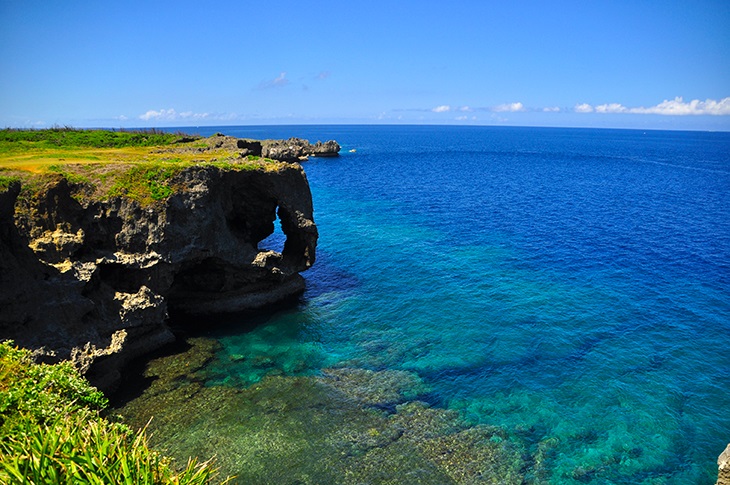 Entry: Boat or Shore
Level: Experienced
There are about 8 different dive sites around Cape Manza, each with its own character.
There is the Toilet Bowl or Horse shoe, which name might not suggest something graceful, but believe us when we say, you can find everything you are looking for underwater. Car sized Oceanic White tip sharks are regular visitors here, together with schools of different fish and juvenile Barracudas, Moray Eels hanging from the walls and rainbow colored Nudibranchs slugging along the reefs.
The Dream Hole. Imagine a chimney, leading down from 5  to 23 meters inside the reef. Covered in coral and critters, leading into a chamber, the size of an average living room and continues into another 5 meters long dark tunnel, just to arrive into another chamber, where you can finally see the magical blue colour of the exit at 27 meters, which just happened to be looking like Pikachu. Mind blowing and different, not a place for the faint hearted, but a rewarding experience for the brave. If you don't believe it, check out this video : Scuba diving at Manza Dream Hole in Okinawa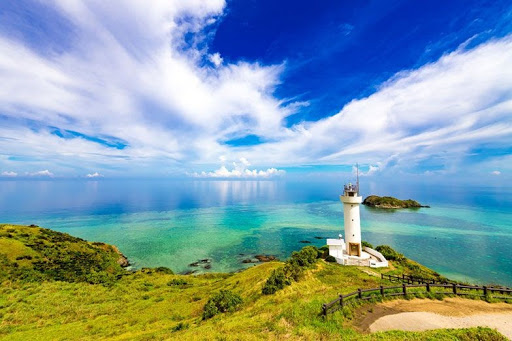 Entry: Boat or Shore
Level: Experienced
Zampa is in Yomitan area and we highly recommend visiting the lighthouse, where you can find a small museum and can even go to the top for that perfect Instagram shot. If you arrive with a car, a big car park can be found next to the walking trails.
For more information about the lighthouse and museum, please visit the official website : Zampa Lighthouse
Zampa is for those, who just love diving between interesting rock formations and who are always searching for that hidden swim through and deep water fish. Due to its location, surrounded by deep ocean, the variety of fish is amazing. Everything from Nemo to giant Tuna and Shark can be seen and as a unique addition at the dive site called Lion Rock, there is a remain of a WW2 tank sitting on the bottom at one of the dive sites and the lucky ones still can find some old bullets from that era.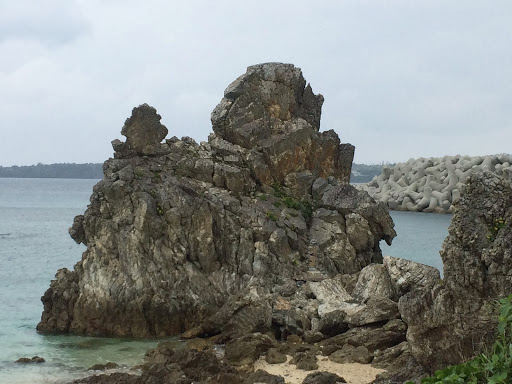 Entry: Shore
Level: Beginner
Peaceful. When all the other dive sites are off limits and the boats can not leave the port due to the high winds, Gorilla Chop still offers calm seas, clear waters and diverse marine life. 
Its shallow waters (1-12m) giving you the perfect opportunity for a relaxed dive or snorkel from the beach. Sea horses, anemone fish and cloud of sardine can be often seen here offering a great dive for beginners and experienced divers. You can reach Gorilla Chop by driving North on route 58 past Nago and there is a big car park on site. Inside the building there are changing and shower areas with toilet and of course wending machines.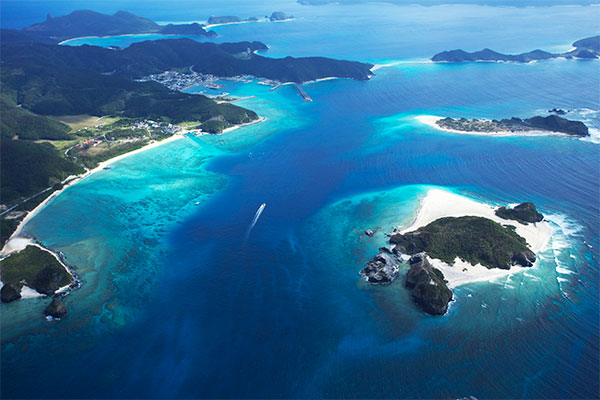 Entry: Boat
Level: Beginner/Experienced
Diving at the Kerama Islands is exceptional and every dive site has something different to offer. Some have endless crevasses or beautiful coral reefs, while others have cleaning stations for Hawksbill and Green Turtles. It is the perfect dive site for both Macro and Wide Angle( reefscape) underwater photographers. You can often see White and Black tip reef sharks, rays, mantas and various sea snakes cruising around the reefs.
If looking for a relaxing getaway to the famous Kerama Islands National Park, you can also visit the islands of Tokashiki, Zamami and Aka by ferry from Naha. See the ferry timetable here: Tokashiki and Zamami. I'm sure you will love Ama or Furuzamami beaches.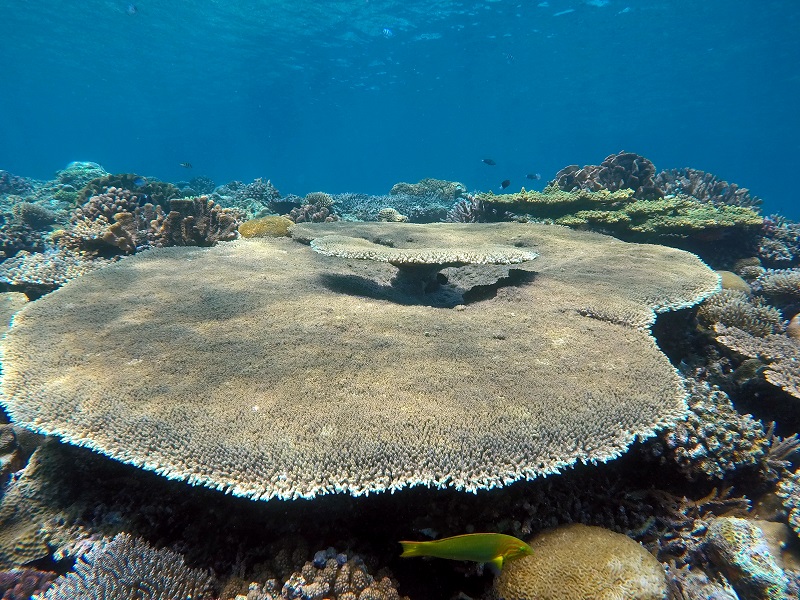 Entry: Boat
Level: Beginner/Experienced
The dives around Minna Island can be separated to to shallow and deep parts, where the shallow (5m) healthy reef ring surrounding the island' white sandy beach is probably one of the best in Okinawa, with table corals the size of a ping pong table, school of fish slowly cruising around and Mantis Shrimps sharing their hideaways with octopus and eels. In deeper waters, around 15-20m, you can find smaller reefs growing out from the white sandy bottom like an individual metropolis, each with its own residents like Dory (Pacific Blue Tang) Moray Eels and school of Big Eye Snappers. 
Between these little underwater islands, you can find Garden Eel colonies catching their daily plankton from the moving waters. Check out this video to see how cute they are: Minna Island's garden Eels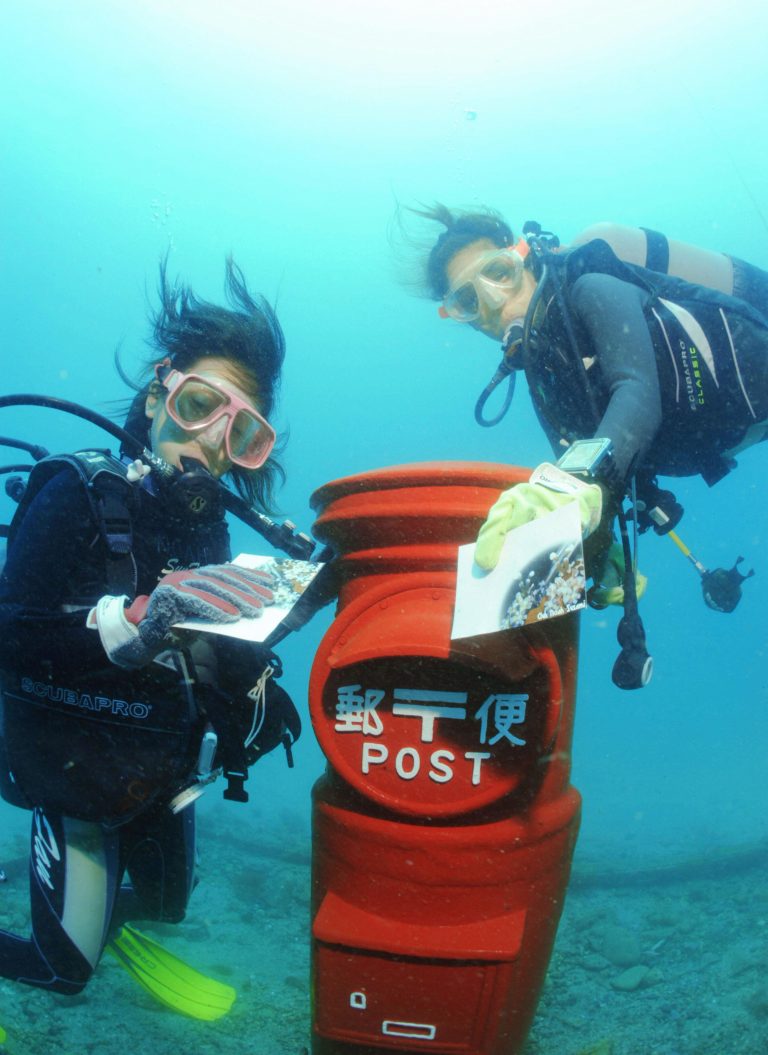 Entry: Shore
Level: Beginner
Diving or snorkelling at Sunabe Seawall has many advantages over other dive sites in Okinawa. One being an actual underwater post box, which always puts a smile on everyone's face. How often can you go diving and send a postcard to your friends and family from underwater? Luckily for everyone, the post box is at a depth of around 7m, making it easily accessible even for first time Discover Scuba divers. Another great feature of the Seawall is the endless soft corals field, roughly the size of 5 football field! This massive living ecosystem takes hours and hours to explore and with all the little critters, octopuses, sea snakes and shrimps, no two days are the same here, providing plenty to see during your dives. For underwater photographers, especially during night dives, it's like diving in heaven.
So how to find the right dive site in Okinawa?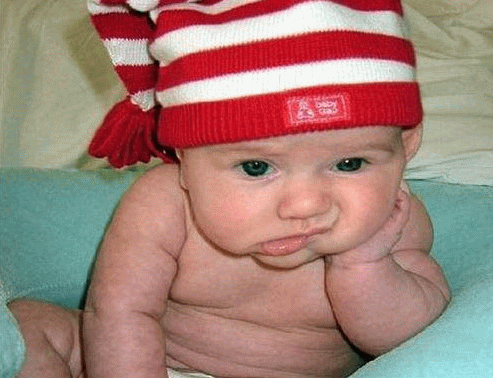 First you have to decide: what are looking for underwater and are you experienced enough to visit that dive site? For example if you are an Advanced Open Water diver with 25 dives, but only diving once a year at the Bahamas at 30 feet of warm blue sea, don't aim for the deepest wreck dive in Okinawa, as no sane dive operator will take you to the USS Emmons. On the other hand, with that experience, you can do some amazing reef dives at Minna Island, enjoy a night dive at Sunabe, search for sharks at Manza or relax at Maeda Point in Onna village. The good thing about diving in Okinawa is that the possibilities are endless and everyone can find what they are looking for underwater.
So how to find the right dive site? The answer is: ask for help from a local dive shop. You didn't see that coming did you? Instead of wasting hours on your smartphone, searching on the web for second hand answers, just send an email to one of the dive shops with your desire and I'm sure they will be happy to assist you finding the most suitable dive sites, depending on your experience level.
English speaking dive shops in Okinawa
On the main island of Okinawa, there are about 200 Padi dive shops and only a few from other diving agencies like SSI or NAUI. Although most of these diving shops has English websites, not many of them actually has English speaking dive professionals.
There are however, a handful of foreign dive shop owners from Europe, England or America. They offer their services in English, German and some even in Chinese or Korean.
Sunkissed Divers Okinawa – English/Hungarian. Small diving groups and personalized services. Padi
Reef Encounters– One of the oldest English speaking dive shops in Okinawa. Padi/Naui
Aloha Divers Okinawa– English/Portugese services from a passionate couple. Padi
Piranha Divers Okinawa– English/German dive shop with excellent dive gear. Padi
English Empire Divers Okinawa– British expat with love for the ocean. Padi