As has been the case for many people around the world, 2020 didn't exactly pan out as I had planned.
When I left New Zealand for Japan at the end of January, I thought I'd be gallivanting around the different prefectures and traveling to Taiwan and South Korea. Instead, I ended up in semi-lockdown, confined to the small sub-tropical island of Okinawa, which has a climate centered around humidity and typhoons and a population of just over a million.
The Okinawa Prefecture is an arc of islands that runs between Kyushu and Taiwan. It's Japan but not how one imagines Japan to be. There are no skyscrapers or trains here, and it feels a world away from the metropolitan cityscape of Tokyo. In place of busy streets and a booming nightlife, there are beaches scattered with pieces of coral and hermit crabs, and coastlines of rugged cliffs. But, in my opinion, what sets Okinawa apart is the world beneath the surface of its clear blue ocean.
I learned to dive in Thailand eight years ago.
Since then, I've completed my advanced and rescue courses and done a fair share of cold-water diving. Before I left New Zealand, I lived in the capital city – Wellington – where the southern coast is a marine reserve. It's full of long stretches of bull kelp, fur seals, blue cod, abalone, and crayfish. SCUBA divers tug on 7mm wetsuits or dry suits. The water's cold. The kind of cold that keeps you to one shallow dive of around 40 minutes.
Diving in Okinawa is different.
In summer, I wear a rash guard and a pair of shorts and spend the duration of the dive at 30 meters. I've traded in kelp forests for coral reefs, fur seals for sea turtles, blue cod for clownfish. And in place of travel, I've visited some incredible places underwater.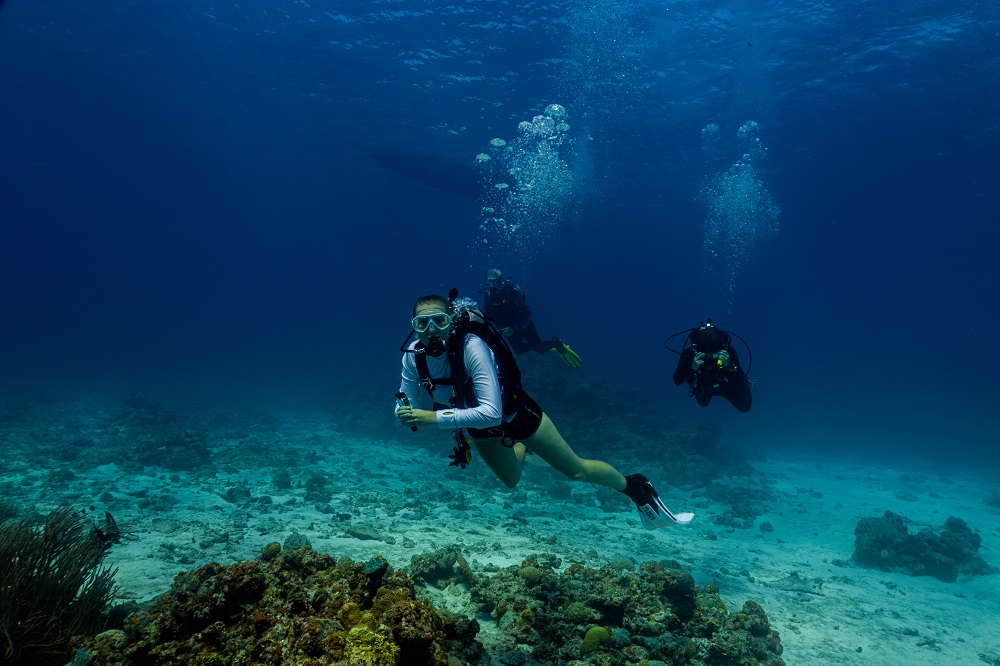 Close to Okinawa is the tiny, golden island of Minna Jima – a little gem surrounded by stunning coral and a labyrinth of underwater caves and tunnels. In the middle of summer, when the humidity was nearing 100%, and I'd learned to accept that if I stepped outside, I was going to melt, we visited this area with Sunkissed Divers Okinawa.
It was a short, calm ferry ride from the port to the first site – the coral gardens. This dive saw us gliding over enormous table corals at 30 meters of depth while we spotted three different kinds of eels and hundreds of tropical fish. The gardens randomly dot the sandy bottom, and we moved from one to the next, peering around the coral and beneath rocks to spot dragonfish, sea snakes, and clownfish enveloped in their sea anemone. As we got shallower, the reef became more immense, until the ocean was gently tossing us over corals that were within meters of the boat above us
Once our time (and air) was up, we returned to the boat and headed to the second dive site. This site had us practicing our buoyancy as we wove in and out of swim-throughs. We searched for species that prefer to hang out in the dark – like lobsters and sharks – before emerging from the dark tunnels to find ourselves above yet another reef. It's incredible that, for all the pressures people put on the ocean around the world, the fragile coral ecosystems surrounding Okinawa seem to be, at least for now, relatively healthy and intact.
As summer turned to autumn and the humidity started to ease, we loaded up the 5mm wet suits and visited the Kerama Islands – a set of remote islands that are one-hour by ferry from Naha, the capital of Okinawa. These islands are well known for their coral and the high chance of spotting sea turtles, but we got another surprise when, on the second dive, we descended to 26m and, while being tossed around in the surge, watched as six Whitetip reef sharks circled us.
Whitetip reef sharks are a small species of less than two meters. They tend to be very chill. At first, they barely looked at us and swam by in their majestic fashion. As the dive progressed, they became bolder and more curious, gliding within a few meters and occasionally bumping against our cameras and tanks. Although sharks have a reputation that commonly induces fear, these were so calm and relaxed that it was difficult to feel any concern.
Returning to the boat, we went to a quiet bay for lunch and a snorkel before heading back out for the third dive, this time amongst giant sea fans.
Cape Manzamo is on the west coast of Okinawa, near the village of Onna. The ocean surrounding the cape offers SCUBA divers a whole set of different experiences.  
At one spot – the dream hole – we descended 20m down a chimney into a completely blacked-out tunnel. With a couple of trusty torches, we dove through this tunnel and emerged into a semi-enclosed chamber where we were surrounded by schools of fish, brilliantly silhouetted against the blue ocean.
On the next dive, we spotted a yellow frogfish – a strange, stocky fish that sticks itself to a surface, keeping very still until a potential snack passes a little too close. Along the sandy bottom, a lone sea anemone, inhabited by a colony of saddleback anemonefish, caught our attention. Close by, an octopus emerged from under its rock and, as we watched, it flicked through its full spectrum of colors. We began to make our way back to the boat and came across a sleepy sea turtle nestled in amongst the coral, seemingly unbothered by the strange creatures that had suddenly appeared.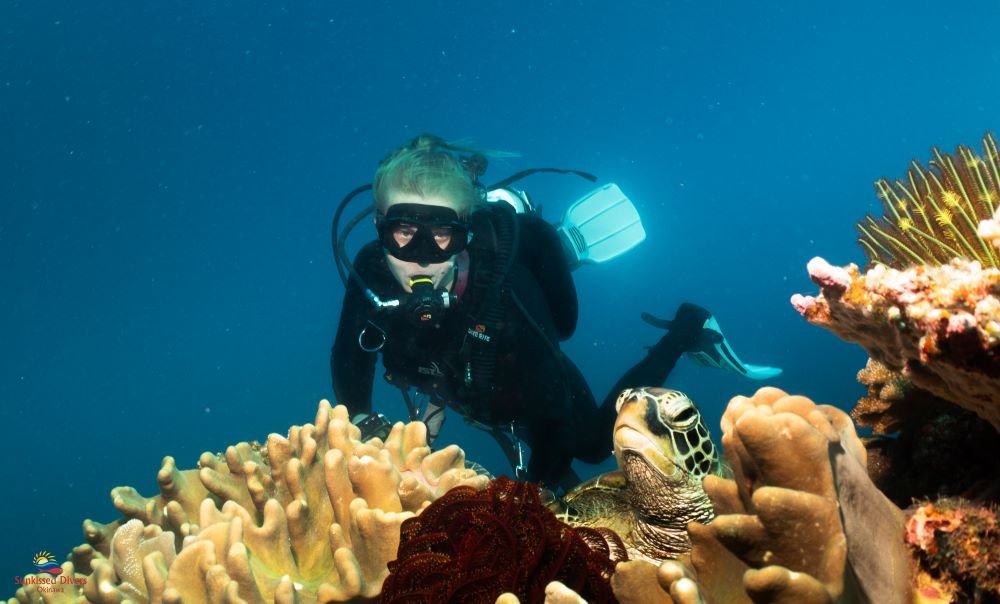 At yet another dive site – aptly named 'the Overhang' – we found ourselves hanging out over a steep drop off. On one side, there was a vertical coral-covered cliff and, on the other, the deep blue ocean for as far as we could see. Diving like this must be one of the closest experiences to flying that we, as humans, can have.
There are many more sites around Okinawa to explore, and I'm looking forward to the diving experiences that 2021 will bring. Am I gutted that I haven't yet visited Taiwan, or Seoul, or Hokkaido? A little. But am I stoked that I used this time to explore Okinawa's underwater world instead? Definitely! And big thanks to Sunkissed Divers Okinawa for organizing the many amazing dive trips.
Article from Lucy Dickie